Villa Luna
Blog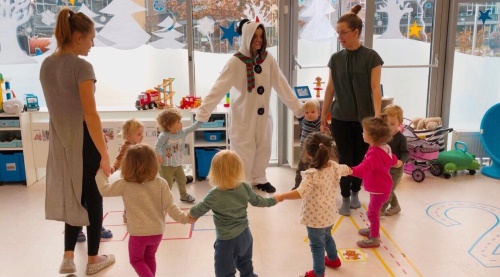 News from Cubs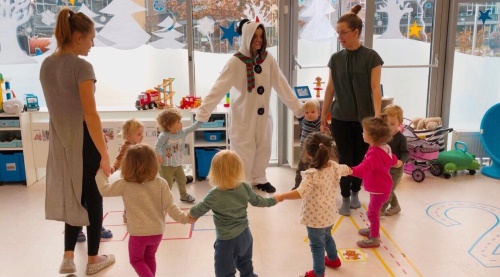 01-05.2.2021
Dear parents, grandparents, and friends,
Welcome back to another week with us!
This was the last week of the "Little Leonardo" project and we said a proper goodbye to it with summing up everything that we learnt. Every day we did a different activity being scientists, architectures, musicians, and painters. Let's see in detail what we were up to.
Monday started with us exploring the box with our new and colourful wooden blocks. We did not miss the chance building things up with them, dividing according to colours and sizes. That day we also learnt about polar bears and where they live, so we made for them nice igloo houses with cotton. We adore singing, dancing and anything that has to do with music! Our class is full of musical instruments, so this week we used them as much as we could, some of us even played the flute. The weather is still so cold, and the water outside can be really frozen. That gave us the opportunity to talk about the temperature of it and see the differences between hot and cold water. We all voted and agreed that hot water feels the best!
Furthermore, during those days, we did a snowflake craft using not only paint but salt as well! Using and checking the texture of it was special to us. Little Leonardo project had to do a lot about art, thus we were using colours and many other materials, creating, and exploring. This week, we enjoyed exercising our body with all kind of materials. Gym is a place that we love to visit not only for fun but also to develop gross motor skills. Dancing helps a lot with that as well. In the classroom all of our materials and toys are great for strengthening the fingers and in general all of the hand plus, the eye to hand coordination.
Friday is always fun here at Villa Luna and in our class. Since Little Leonardo is leaving, we had to say goodbye to him, so we prepared a small dance performance singing and dancing our favourite songs. Our friend the snowman was there as well.
Next week we will celebrate Carnival. So, get ready for more fun, adventures, games and of course costumes to come!
Have a lovely and healthy weekend.
Your Cubs