Villa Luna
Blog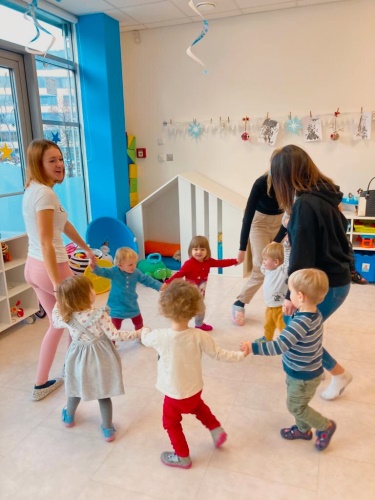 News from Cubs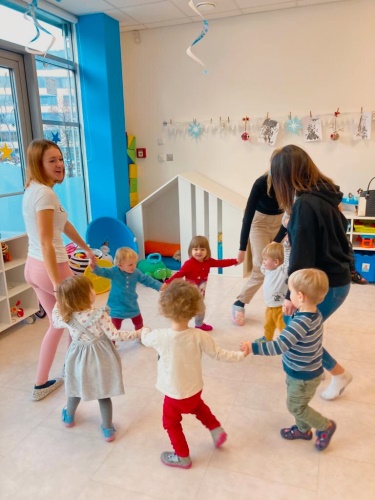 11.1-15.1.2021
Dear parents, grandparents and friends,
Greetings from the Cub class, welcome back to our weekly ''newspaper''!
This week has been more than busy and fun here at Villa Luna and in the Cub class. We continued our theme '' Little Leonardo'' and we are focusing on parts of our body, how to name them, some winter features and of course music, since our project is everything about Art as well.
We started the week by tracing our body, our little friend Ewan helped with that, and after we tried to name and point on our face characteristics. We knew mostly all of them (eyes, nose, mouth…) but we really enjoy playing with the carton body, stitching in and out the parts of it and measuring our height with it. Our little cubs, tried to remember the senses during this week as well, the ears help us listen, we smell with our nose etc. After that, this day we had a nice long walk by the field after a long time! We were all excited that couldn't stop running and jumping around. On the way we even met a huge snowman! Since we are talking about human development and growth, we thought it would be a great idea to compare ourselves with the younger us. The pictures will be exhibited in our cloak room next week.
This week was full of snow and very cold weather, so we couldn't help ourselves but talk a bit about Winter. ''What is the weather outside?'', ''Where is Ms. Sun'', ''Is it cold or hot?'', those were some of the questions we asked ourselves. After we had a long and fun play in the garden with the snow, the little Cubs thought it would be a great idea to make a small snowstorm in our class as well! So, we made a small experiment mixing vinegar and baking soda. Our faces were full of surprise when we saw the foam going out of the jar.
Gym is one of our favourite places here at school, therefore we decided to spend a bit more time than usual there. This week we visited gym twice, learning how to properly use the equipment, playing freeze dance games and trying to strength our body even more.
More excited news to tell! This week we welcomed three new friends- Sasha, Kaja and Bastik. So happy to have them with us, playing and learning together 😊
That's all for this week! Enjoy the pictures and see you next week with more excited news to come! We will continue our ''Little Leonardo'' project.
Your Cubs