Villa Luna
Blog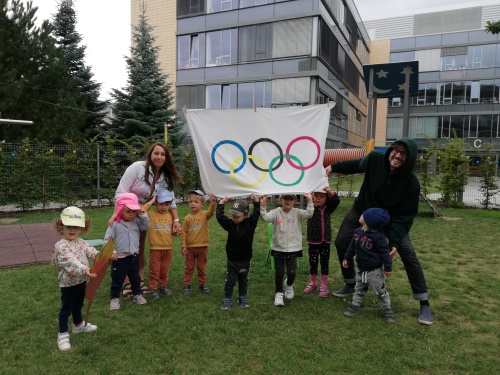 News from Bunnies
9.8.-20.8.2021
Dear parents, grandparents, and friends, greetings from the Bunnies Group!
Welcome to this extended edition of the blog. We did not have a blog last week because of some absences in the Bunnies class but we are back with a two-week edition. Over the past two weeks we concluded our summer unit titled" Olympic Games". We learned about the winter Olympics, participated in the Bunny class Olympic games, had an Olympic medal ceremony and said goodbye to some of our good friends. Let's take a look at what we did!
If you want to go skiing you need snow! If you want to play hockey you need ice! Last week we learned about how some sports require cold weather to play. We then had to use our logic skills to sort summer and winter sports.
Meda Peda loves to go skiing! Last week our little Bunnies had to use their fine motor skills to dress him properly for the ski slopes!
This week everyone in the Bunnies class took part in the Bunnies class Olympics! Each day we had to use a different gross motor skill to earn our Olympic medals! On Friday we had a special Olympic medal ceremony in the garden where we all received gold medals!
Over the two past week we said goodbye to a few friends from the Bunnies class. We will miss you Livy, Maila and Rafi! We wish you all the best luck at your new schools!
Next week the school is closed for preparation week. We will be back the following week with our new unit on Winnie the Pooh!
See you then!
Your Bunnies Teachers