Villa Luna
Blog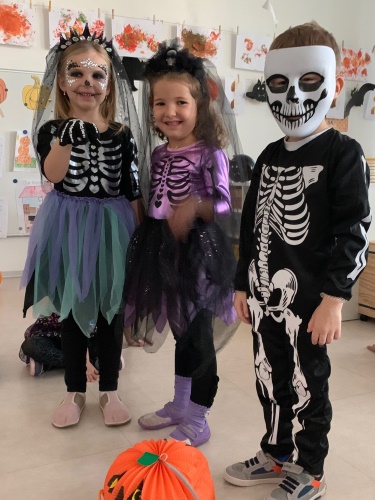 Where is maple syrup from?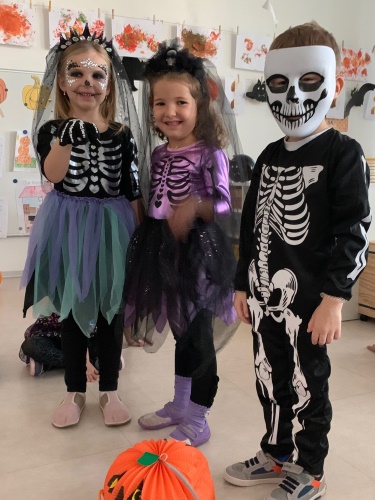 Week 31.10 - 4.11 in Lions.
Hello friends! Here some news from the Lions class! This week, we celebrated Halloween with a great party! Children went to visit other classes to get some sweets. After that, they enjoyed the time having different group games like: dancing chairs, hunted worms treasures, and of course, sharing delicious treats that they were baking the night before at home! Thank you very much for your kind cooperation! On Tuesday, it was so much fun playing detective in the woods! Children, with the help of their magnifying glasses, found several maple trees. We had done an experiment to discover: where is the maple syrum coming from? So, thats why we were searching for the correct maple tree. And we did!
On Wednesday, our little Lions practiced some fine motor skills, while having an Art activity: Ciperka Squirrel! As motivation for this, all our Lions enjoyed story time: Ciperka's friends, a nice autumn story involving characteristics of this magical season , as weel as many forest animals who helped Ciperka squirrel to discover: What is Autumn? 😊
On Thursday, Lions had a busy morning, discovering the smell of different vegetables. Using the sense of smell, they got to know all the vegetables that we used in our recepe! Here they are: Pumpkin, potatos, carrots and celery. Well done Lions! Our children, got a healthy afternoon snack: Pumkin soup made by the most beautiful hands ever! 😊
Our project, is coming to the end. Thats why, today Friday, children went to the woods to collect some natural materials that they will use next week for the photo exhibition. As you know, that is going to be the product of our project.
Looking forward for more adventures, have a lovely weekend!
Your Lions teachers.