Villa Luna
Blog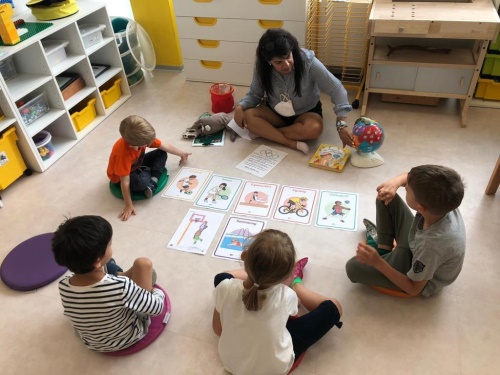 Week 12-16.7.21 in the Lions Group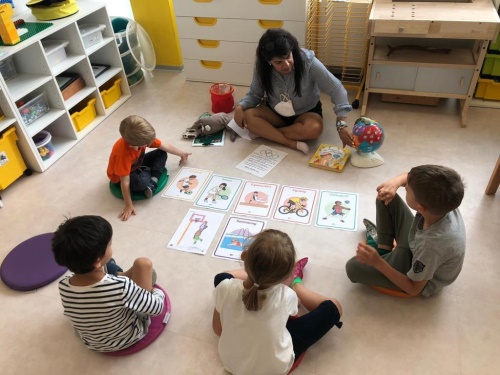 A Visit from the Tortoise and the Hare!
Hello everyone, welcome to our new summer topic, The Villa Luna Olympics! It started with a visit from two new friends - the Hare and the Tortoise. They taught us all about the best way to take part in sports – that it's not about winning or losing but just having fun and taking part. They are so funny – one is slow and the other is super fast, but they are still good friends!
Our little Lions had a multi-skills sport morning in the gym. They tried out various forms of movement: running between cones, doing star jumps, throwing beanbags into hoops, bouncing a ball to a friend, doing a hoop race, and more – they really enjoyed it! They also practiced sports outside in the fresh air! The boys had a soccer match at the big playground! We hope you enjoy looking through all the photos!
This week the children have learned about the Olympic Games. They discovered that the Olympic rings symbolise the five continents and that each colour represents a continent! Have you seen our Lion class Olympic flag? It's a true product of teamwork!
The children have also enjoyed crafting our mini golf box! They practiced some fine motor skills while making it. All of them helped with cutting, glueing, and decorating it because they are a great team! Thank you dear Eda for the golf club and the golf ball - we had a really nice morning! Please say thank you to your dad for sharing it with all of us!
That's everything for this week, we're looking forward for more sporty adventures - enjoy your sunny weekend!
Your Lions class.