Villa Luna
Blog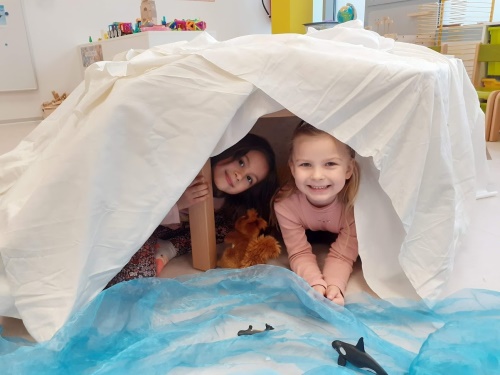 News from Lions 10-14.01.22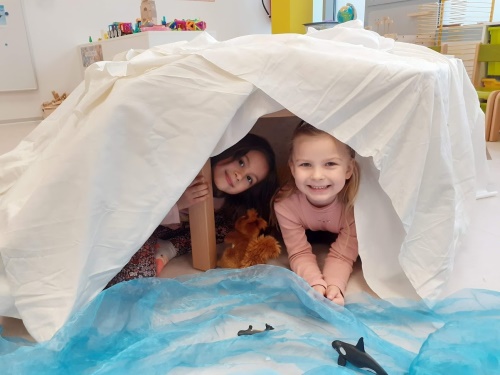 Polar Bear, Polar Bear where did you go?
Hello dear friends,
Here is some news from the Lions class, where the children are enjoying the activities we have prepared for them so that they can use all their senses to discover the fantastic life in the Arctic.
On Monday, we discoverd some fun facts about the North Pole. Children learned about the weather and what to wear in case we want to visit the Artic. They also learned how the weather changes in this season of the year (winter). They experimented with water in its liquid state, how it changes into a solid state, and how it returns into a liquid state again, while some Arctic animal were having a nap there!
Little Lions has got a new friend in the class, we welcome Filipku to our group! We are super happy you are here with us! 😊
On Tuesday we visited our gym. The children were practicing jumping from one hoop into another, pretending to be Arctic hares. They also enjoyed playing in 2 teams, a snowball battle in the Arctic! The children had a nice time playing with the parachute. They could co-operate together during synchronized movements.
On Wednesday, little Lions practiced their fine motor skills by painting with sponges, cutting, and glueing, crafting wonderful works. You can take a look in the cloakroom! But the best of all is the igloo!
They worked together to build the biggest igloo ever! The children got to know some fun facts about the Inuit people living in the Arctic, so they were playing as Inuits, inside their home!
On Thursday, the children learned about The Polar Bear. They listend to the story of the Big Polar Bear who went for a walk in the soft, cold snow. They made a great job, while perceiving and distinguishing the sounds (drum) and adjusting it to movements.
Friday has been dedicated to our healthy bodies! Children helped teachers to prepare a very healthy smoothy using forest fruits, and yoghurt! Yummy yummy!
Next week, we will go to the Sokol, please don't forget to send the backpack, including shoes and the bottle of water! 😊
Lokking forward for more…..
Have a nice weekend,
Your Lions teachers.