Villa Luna
Blog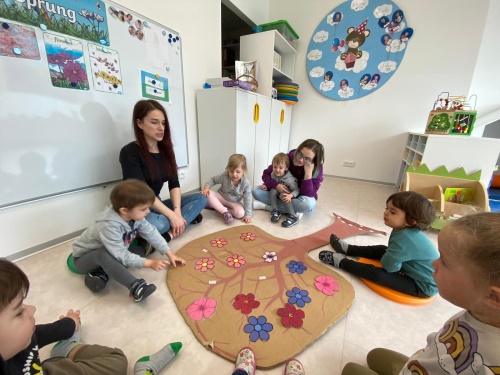 News from Cubs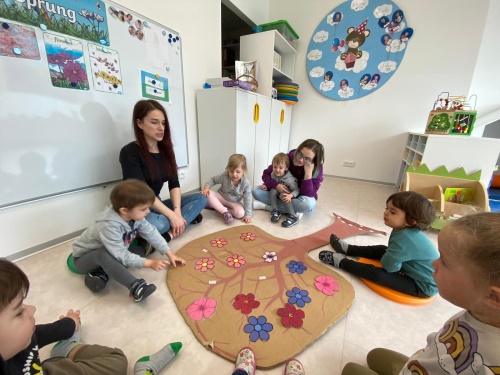 4-8.4.2022
Dear parents, grandparents and friends,
Welcome back to our weekly blog, with lots of news and fun activities from us here at Villa Luna!
It has been an amazing and exciting week here at our school and in our Cub class! We continued our topic named "The Little Red Hen" and did some fun activities all together. We got to learn about the season of Spring, used our fine motor skills to paint and learned how to plant! We also started our unit art project "Cubs handprint farm".
We began the week by learning about Spring. "How is the weather outside?" "What can you see in our garden during these days and on our walks?", these were some of the questions we started to ask ourselves. We found out that weather is bit better, and we noticed that some flowers have started to bloom. Spring is here! Therefore, we took our tree out and started to put colorful flowers on it, while at the same time practicing and remembering the colors of them. We love the decorating our Class Tree!
This past week all our Little Cubs got to make their own colorful bouquet of flowers, using corks. So fun working with many materials! Everyone had to use their little fingers to take and hold the cork. Some of us painted even our hand and made flowers. Our unit art project has started and so far, we have made 2 animals, a chicken and a dog! We love painting and next week we will continue with more! The most exciting activity we made was planting! We all planted our own grass jar, put stickers on and we are watering our plants every morning after arriving. To not forget we made a calendar with stickers on! We are all so excited with it! 😊
Next week we will continue our unit and it will be all about Easter. See you all next time!
Cub Team